Blog
Keep in touch with us and what is going on. Read about all the little things....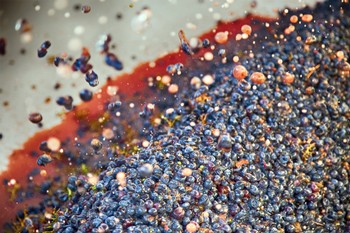 This month we enjoyed a perfect afternoon at the vineyard with our wine club members. We couldn't have asked for more beautiful weather or company. We wanted to give everyone a sample of our upcoming 2012 vintages that we will be bottling in April.
Upon arrival our guests were greeted with a glass of our award winning viogner and appetizers. This was a perfect way to toast to the weather as the wine was so refreshing and crisp.
As our guests continued to arrive we began sampling our 2012 Grenache which has been sitting on american oak. The big blue fruits that are coming out in this wine have given it a lot of depth thus far. Second in line was our Cab Sauv which has an incredible peppery finish. Our payaso, which is our blend of syrah and grenache is coming along nicely too it is incredibly smooth on the palate.
Our Barbera has so much spice it was reminding everyone of the holiday season and baking. Lastly we sampled our Syrah, it is proving itself to be quite the bold wine this year and might just be bigger then the Barbera. We can't wait to see how these wine's taste when they are finished.
Everyone enjoyed soaking up the sun, the views and of course the wine! As the sun began to set on lake melones our members basked in the view. We enjoyed having everyone out and showing off our upcoming wines. We hope everyone enjoyed themselves as much as we enjoyed having you. We look forward to many more events this year!

The 2014 San Francisco Chronicle Wine Competition has come to a close and the tallies have been counted. The San Francisco Chronicle Wine Competition is the largest competition of wines in America, and of course you know we submitted our stellar wine for them to judge. They received a record number of entries this year from over 25 states in America!
The results are in and you can only imagine our excitement when we discovered that we had been given, drum roll please….5 Awards! We hope you will help is in giving a round of applause to Ghee and Nate for creating such masterpieces. Be sure to place your order as soon as possible for these wine's! Here are the wine's that were awarded:
Silver
2011 Viogner
2011 Grenache
2011 Cabernet Sauvignon
2010 Syrah
Bronze
2011 Payaso
On February 15, 2014 there will be a public tasting at the Fort Mason Center and our very own Ghee Hagedorn will be there pouring. To purchase tickets to the event, which will sell out, follow this link http://winejudging.com/event_tickets.htm. We would love to see some familiar faces, so join us in tasting wines from all over America.
We want to thank each and every one of our members. Without your continued support our dreams wouldn't be our realities. A special thank you to our incredible wine maker Nate for making such stellar wines, Thank you!
Recent Posts
May 10, 2020

April 8, 2020

February 14, 2018

February 14, 2018

May 28, 2014

February 6, 2014

January 27, 2014

January 22, 2014

November 13, 2013

July 3, 2013
Blog Categories
Blog Archives
Our Writers