April 8, 2020 | Pairings | Rocky Harmeier
Viognier & Thai pork lettuce wraps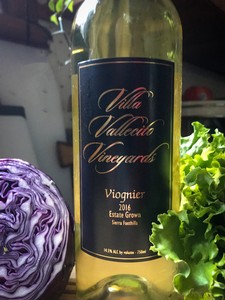 Some love from my kitchen to you.
It's the start of a great friendship between Viognier and Thai pork lettuce wraps.
Simple and clean flavors with a little Rocky flare.
First the wine, 2016 VVV Viognier. Pristine golden color with a mouth feel and body of elegance.
Start by making a brine for the pork, Salt, sugar, Thai green curry paste, fish sauce, onion and garlic.
Place the pork in the brine and put in the cold box for 24 hours. I like to move them around in the brine once.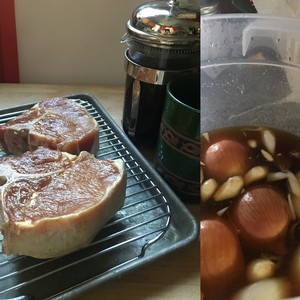 Make yourself some coffee in the morning and remove the pork from the brine.
Place pork on a rack over a sheet pan and place it in the cold box for a couple of hours.
This down time in the cold box will help to dry the pork which will help the smoke to stick to the meat.
Save the brine, reduce it down slowly and chill it to create a dipping sauce for the wraps.
So WHY bone-in pork chops? Flavor and cost. I paid only $6.50 total for these two bad boys.
Cooking meat on the bone adds so much more flavor and juciness to the meat.
Feel free to use any type of pork, white meat or shellfish.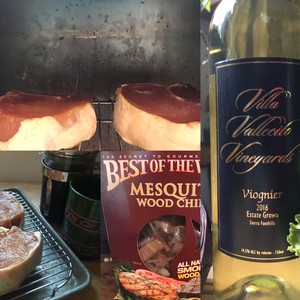 Set your smoker to 140 degrees to cold smoke the pork, not cook it.
Smoke it for a couple hours. If you want to cook it all the way in the smoker go for it.
I prefer to finish it in a very hot oven until done, to about 145 degrees.
While your pork is getting smoky you should consider a slaw.
A simple red cabbge slaw with hints of Asian spice is the perfect garnish for these wraps.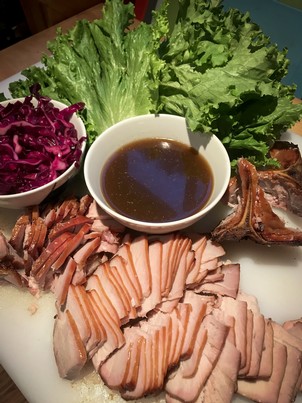 Now is a good time to chill your Viognier and wash your lettuce.
Your just about ready to enjoy the fruits of your labor with a perfect pairing.
Rest your pork, remove it from the bone and slice the meat somewhat on the thin side.
Build yourself a couple wraps, first lettuce then pork and slaw. Pour yourself a glass of Viognier.
Roll your wrap up to keep all the goodness inside and dip into your chilled reduced brine.
Enjoy how the two pair so well together like they were meant to be together.
Playing off each others strong points and complementing each others flavors.
Enjoy and keep cooking and drinking good wine.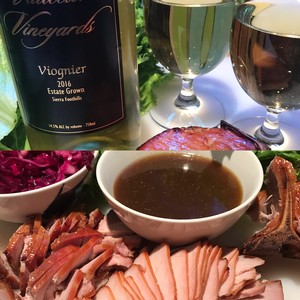 Chef Rocky
Comments
Commenting has been turned off.
Recent Posts
May 10, 2020

April 8, 2020

February 14, 2018

February 14, 2018

May 28, 2014

February 6, 2014

January 27, 2014

January 22, 2014

November 13, 2013

July 3, 2013
Blog Categories
Blog Archives
Our Writers