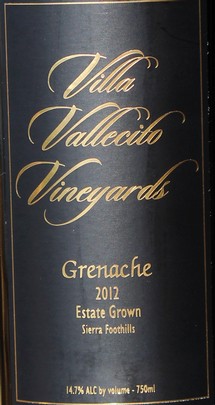 Wine Specs
Appellation
Sierra Foothills
2012 Grenache
2012 Grenache
Harmony, serenity, solace? Complex in its rich presentation, this deep grenache suggests that there is simplicity yet in the dream. Breathe, savor, and indulge. Imagine youthful green fields of grass. Covered in white daisies swaying in the wind, each movement and step you take releases a crisp sensation of coolness. A sea of little crisp white petals floating in the wind, fly by you. Woosh, a splash of spearmint in the gust that lifts the flowers towards the sky. Playful and sweet, a hint of candied watermelon gives a smile to your lips.
Product Reviews
Jackie Barthel
(May 25, 2017 at 10:57 AM)
The reason I fell in love with Villa Vallecito!