Blog
Keep in touch with us and what is going on. Read about all the little things....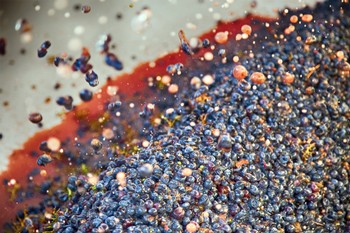 What an event we had Saturday evening with all of YOU! I hope you got a "tease of a preview" on our upcoming varietals! There's nothing like a warm fire, a soft place to sit and a sparkling glow to a glass of Barbera. A special THANK YOU to all of you that made it happen, drove to our venue amongst the Vineyards, and spent time with us and club members. We look forward to our Spring release and another time to gather, meet and taste together. Until then..............Salute
In the early morning, before the sun begins to crest above the mountains, I can hear a tractor chugging, making its way through the vineyard. I sip my coffee in the semi-darkness, enjoying the unmistakable feeling of a morning on the brink of Autumn. Listening to the early birds all around me, catching their worms, I watch the sun's first rays light up the vineyard. The vines, a sea of green with waves of yellow, orange, and red, so recently heavy with fruit, are now free of their burden. The pickers drop the last bin of grapes in a long row at the winery just as our crew begins to arrive, having left only a few hours before. A new day has begun.

I've been to Napa, and have watched their high tech equipment sort grapes with a speed and efficiency we will never be able to match. Here in Murphys, as we near the end of harvest and our backs are aching, our hands are stained and caked with tartrates, and we have barely slept, you would think we would be envious. But as our crew stands together around the table, hand sorting grapes to a rhythm that transcends music, I know I wouldn't trade our Old World techniques for anything.

Under the direction of Winemaker Nathan Vader, who makes wine for Vina Moda and Villa Vallecito Vineyards in Murphys, as well as Euclid out of Napa, our crew has spent eight straight weeks in each other's company. From early morning, through the afternoon, and into the night, when we can feel the breeze from New Melones meet the heat of the day rising from the blacktop at our feet, we sort the grapes we have come to know intimately. By varietal, we know their taste, color and smell, the thickness of their skins, the way they feel in our hands and all of the characteristics that set them apart from the rest. Anything less than perfection is deftly tossed into the compost bin, where it will give new life to next year's crop.

We have come together to create something beautiful, a work of art, and as the clusters of grapes move through our hands, any pretenses or ego that may follow us in our day to day life vanish. We work together, laugh together, trade words of wisdom and tell stories of our pasts. We take turns providing a feast at twilight each day, just as harvest crews around the world have done for generations, sitting together and replenishing ourselves for the long hours still ahead. When the moon has risen high above our heads, we pass around a bottle of a previous vintage for inspiration and talk of loves lost and found, triumphs and tragedies, hopes and fears. After so many hours, days, and weeks together, we aren't able to be anyone but who we truly are. Here, we are family.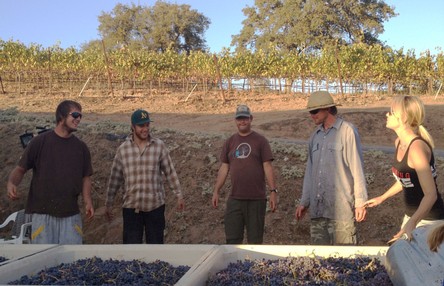 Our crew, getting ready to tackle Grenache on the last day of crush.

Napa may have fancy equipment, and their wine may command a higher price. But this community, this wine, has heart and depth that reminds me of a bygone era. Wine was meant to be made with passion and care, dedication and hard work. I like to think that the Old World winemakers would be proud, knowing that we are carrying on their traditions.

Note: This article was originally published in the November 2012 edition of The Mountain Chronicle.

As the temperatures begin to drop and shades of yellow, red and orange emerge in the vineyard, we are taking a deep breath and celebrating the end of harvest. The long days and nights of hand sorting, crushing and pressing are over. Soon, each of our wines will be resting comfortably in premium oak barrels, where they can age to perfection. Already, even in their infant state, 2012 is promising to be a beautiful vintage across the board.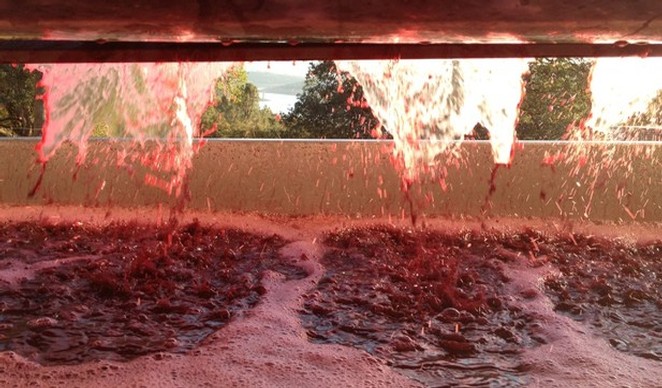 This year, our crew crushed more of all your favorites from our current lineup: Viognier, Cabernet Sauvignon, Grenache, Payaso, Syrah and Barbera, along with the first small yield of fruit from our new Chardonnay and Sagrantino vines, grafted this past Spring.
With spectacular views in every direction on the vineyard, grapes that are a winemaker's dream, and wonderful responses from visitors to our tasting room, Villa Vallecito Vineyards owner Ghee Hagedorn says, "The Lord has really blessed this land, the fruit and the tasting room".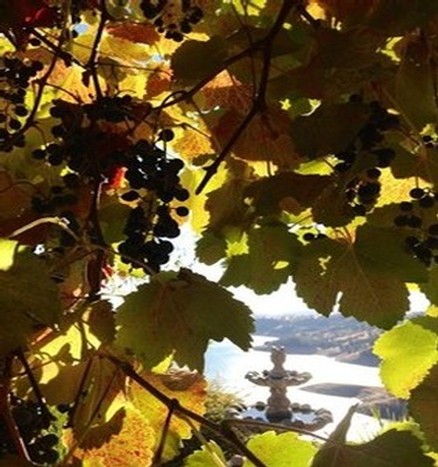 And what good would such blessings be without sharing them? We hope that you'll stop in and see us at our tasting room the next time you're in Murphys, or will consider joining us on the vineyard for our next event. We have enjoyed getting to know so many of you at Tapas on the Terraza and at our Wine Member Gala. Or, if coming in to see us isn't an option, like us on Facebook, or follow us on Twitter or Pinterest, we'd love to hear from you!
And don't forget to bookmark our website: VillaVallecitoVineyards.com, where you can learn more about our history and staff, book a stay on our vineyard, read our blog and discover all of the benefits of joining "La Familia", our wine club. You can also order online, if you've got a craving for your favorite Villa Vallecito Vineyards wine and you're not able to make it in to Murphys. Barbera lovers, don't fret when you see that we're out of stock. Now that harvest is over, we will focus our efforts on a second round of bottling for our 2010 Barbera Reserve. If all goes well and "bottle shock" is minimal, you can look forward to enjoying this phenomenal wine again in February, 2013.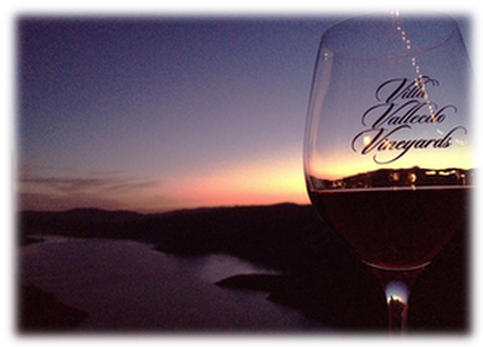 Since opening our tasting room doors in June, we have truly enjoyed sharing our wines with all of you. We have put so much love, care and attention into each one, from the time the first grape leaves sprouted on the vines to the moment we poured them into your glass. Thank you for joining us on this wonderful adventure, and for taking part in our passion for big, bold, beautiful California wines!
Until we meet again, from all of us at Villa Vallecito Vineyards, Salud!

Gold Country Wine Holiday: Villa Vallecito Vineyards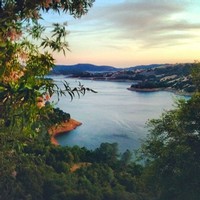 Villa Vallecito Vineyards is more than just a vineyard. Located in Murphys, CA, an up-and-coming wine region in the Sierra Foothills, Villa Vallecito offers an getaway where you can imagine you're a winemaker for a moment, overlooking your vineyards, enjoying the fruits of your labor.
Driving through the ornate iron rod gate and winding our way up to the estate reminded me of the times I've stayed at century-old, family-owned vineyards in Italy. Owner Ghee (pronounced 'G') Hagedorn, a petite but fiery woman, came out to greet us.
My friend and co-traveler, Lindsay Taub and I had been on the road for five hours driving from Los Angeles and we must have looked parched as Ghee proclaimed immediately, "Let's get you some wine already!"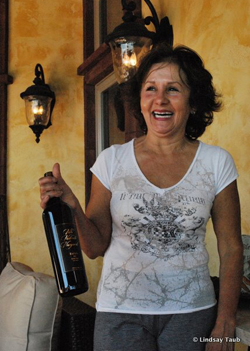 Ghee poured a crisp, tart 2011 Villa Vallecito Viognier and we were off to check out the 'Mi Compania Dulce' casita. Atop a hill, the one bedroom vacation rental with full kitchen decorated in Mexican rugs and art gave away to 360-degree views of the New Melones River and rolling hills of vineyards.
"It's like being on top of the world," says Ghee about a stay at Villa Vallecito's casita.
Although the property had a feel of an old Mexican hacienda, we discovered it was recently built as Ghee's labor of love for her family (she comes from a migrant Mexican family of fourteen), wine and hospitality.
"Villa Vallecito is dedicated to my parents and family. Because of all their hard work, they gave us a better life. I wanted to create something beautiful in their honor."
And picturesque it is. My friend and I had massages poolside and then went to soak in the hot tub overlooking the entire valley with a 2008 Villa Vallecito Barbera that had won a bronze award in the 2011 San Francisco Chronicle Wine Competition.
Wine in hand, we watched the sunset and relaxed our road weary bones while Ghee whipped up some dinner. We hadn't planned to stay for dinner, but neither of us wanted to leave this slice of High Sierra tranquility.
"Our guests feel the same as you. Before they arrive, I always tell them to pack in all the supplies they think they want, because they won't want to leave once they get here," Ghee says with pride.
The care and attention to detail is a running theme throughout Villa Vallecito. Their wines from the 13 acres of vineyards are hand picked and hand sorted. Villa Vallecito's local winemaker Nathan Vader makes sure to create 'big, bold, beautiful' wines, just the way Ghee likes them.
"I like to say Nathan courts his wines. He takes such good care of them," explains Ghee of the winemaker's romance with the fruit of the vine.
Up to this point, you could only sample Villa Vallecito wines by staying on the property or arranging a private tasting. Now, the ever-industrious Ghee and her husband Alan, have opened a tasting room in historic downtown Murphys.
At the Villa Vallecito tasting room, there are seven varietals to try including: Viognier, Cabernet Sauvignon, Grenache, Payaso, Syrah, Barbera and Barbera Reserve. Payaso is my favorite, not only for its rich, vibrant flavor profile, but also because of its heritage. It was made and named after Ghee's late mother Beatrice whose favorite song was Sad Clown. Payaso means clown in Spanish.
For an off-the-beaten path wine vacation, Villa Vallecito Vineyards is decadent yet earthy, just like a fine wine.
To stay at Villa Vallecito, it's $225 nightly rate, 2 night minimum stay. Click here for a photo tour and reservations.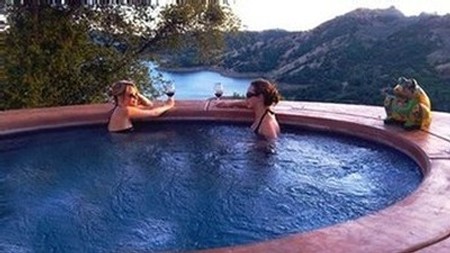 Photos of Owner Ghee Hagedorn and Villa Vallecito Barbera wine by Lindsay Taub, the rest are the authors Lanee Lee.
To read the article online: http://wanderlustandlipstick.com/blogs/wanderlushdiary/2012/07/16/villa-vallecito-vineyards-in-murphys-ca/
For many years, Villa Vallecito Vineyards was just that - 12 acres of Vineyards surrounding the Vallecito home of Ghee and Alan Hagedorn.
In 2008, after tending the vineyards for 7 years and selling the grapes to wineries throughout the Sierra Foothills, Ghee and Alan decided to ask winemaker Nathan Vader to custom crush a few cases of Barbera for their personal enjoyment.
The result was our amazing 2008 Barbera, which was awarded a Bronze medal at the San Francisco Chronicle Wine Competition in 2011. Receiving such an accolade on the first and only wine Villa Vallecito Vineyards ever produced led to a major decision: Villa Vallecito Vineyards would become a Winery.
And so, in the fall of 2010, Villa Vallecito Vineyards harvested their grapes as usual, this time keeping much of the fruit to make their own wine, rather than selling it all to other wineries. Viognier, Cabernet Sauvignon, Barbera, Grenache and Syrah all made their way to the winery where they began the process to become the stellar wines they are today.
We hope you will enjoy them as much as we do!
Recent Posts
May 10, 2020

April 8, 2020

February 14, 2018

February 14, 2018

May 28, 2014

February 6, 2014

January 27, 2014

January 22, 2014

November 13, 2013

July 3, 2013
Blog Categories
Blog Archives
Our Writers